A touch of AI
Yandex IO is an AI-enabling development kit that instantly turns any appliance, from consumer electronics and smart panels to cars and vending machines, into an intelligent, interactive, far-field voice command device. Yandex IO is a quick, cost-effective and tech-efficient way for any manufacturer to integrate AI with voice capabilities into their products.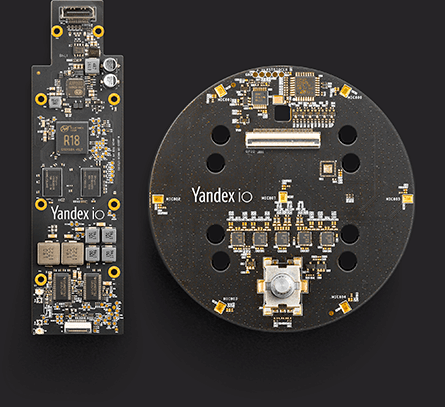 Equipped with a 7-mic array and a technology for an intelligent personal assistant, wake word and voice activity detection, noise reduction, acoustic enhancement, among other capabilities, Yandex IO can be integrated into any device and is fully configurable to adapt to individual needs and technical specifications of every client. The range of its AI skills is easily extendable through ready-made or purpose-built applications.
Make a house a smart home
Give your customers an easy way to create a smart home of their own. Yandex IO built into a loudspeaker instantly becomes a voice-controlled nerve center of a house equipped with smart gadgets. Dim the light, turn up the music, set the timer for cooking dinner and sound an alert when it's ready — Yandex IO-enabled device is better than a butler.
Intelligent assistant technology and voice command interface provided with Yandex IO instantly turn a car audio into a full-fledged in-vehicle infotainment system with a noise-reducing capability that allows the driver interact with the system while driving and playing music in their car.
Give your product a helpful mind
Give your customers interactive experience where they least expect it. Integrate Yandex IO into an iron to let your clients sing along to the songs that it plays on their request, in addition to providing them with information about ironing temperatures and spot-removing tips. Or, use Yandex IO to teach your microwave to respond to questions about cooking times or order a pizza.
Offer a lot more than seems possible
Use Yandex IO to enable your product with AI-assistant capabilities. A device powered with Yandex IO's personal assistant technology can be integrated with applications and web services to let it answer questions, retrieve information, play music, switch TV channels, play games, sound alerts or notifications, alongside keeping a conversation and making jokes.
The Yandex IO solution comes with an in-built personal assistant technology based on neural networks. Developed by Yandex for the Russian-speaking customers, it has a distinctive personality and integrates the ability to carry free-flowing, natural conversations with users.
Yandex IO can integrate a custom software agent instead of its default virtual assistant technology.
Add AI with voice capabilities to your device
Contact us to integrate the full Yandex IO kit into your product, or use the Yandex IO software for your hardware to hinge on, or let us know how else we could help you with your innovation.
Yandex
is a technology company that builds intelligent products and services powered by machine learning.
Our goal is to help consumers and businesses better navigate the online and offline world. Since 1997, we have delivered world-class, locally relevant search and information services.
Additionally, we have developed market-leading on-demand transportation services, navigation products, and other mobile applications for millions of consumers across the globe.